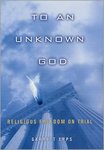 Title
To an Unknown God: Religious Freedom on Trial
Description
Told with the grace of a novel, To an Unknown God: Religious Freedom on Trial is a modern legal epic chronicling the six-year duel between two remarkable men with very different visions of religious freedom and of America.
Neither man sought the conflict that would erupt into one of the most provocative and influential Supreme Court decisions. Al Smith, a nationally known counselor to Native people suffering from alcohol and drug abuse, wanted only to earn a living. Dave Frohnmayer, the Harvard-trained Attorney General of Oregon, was planning his campaign for governor and tending to his three desperately ill daughters. But a series of miscalculations transformed a routine unemployment dispute into a constitutional confrontation.
Before it was over, Frohnmayer and Smith would twice ask the United States Supreme Court to decide whether the First Amendment protects the right of Native Americans and others to seek God with the use of peyote, a form of worship some scholars believe to be more than ten thousand years old. And the Court would finally answer no; it would say, for the first time in the history of the Constitution, that the Bill of Rights provided no protection for obscure and minority religions if the legislature chose not to recognize their needs.
The Court's decision produced a fierce backlash from religious leaders and ordinary citizens, culminating in the Religious Freedom Restoration Act (1993), one of the most sweeping civil-rights statutes of the past thirty years. Now that the Court has invalidated the Act, some say it will lead to a constitutional amendment and a radical change in the American law of church and state.
In the tradition of A Civil Action and Gideon's Trumpet, Garrett Epps tracks the case from the humblest hearing room to the Supreme Court Chamber, skillfully building the suspense and tension that are so much a part of litigating a great case. Expertly weaving together a fascinating legal narrative with dramatic personal stories, To an Unknown God is a riveting look at how justice works-- and doesn't work-- in America today.
Publication Date
3-15-2001
Publisher
St. Martin's Press
Keywords
peyote, Religion, religious freedom, Tribal, Native American, Law, Constitutional Law
Disciplines
Civil Rights and Discrimination | Constitutional Law | Indian and Aboriginal Law | Law | Religion Law | Supreme Court of the United States
Recommended Citation
Epps, Garrett, "To an Unknown God: Religious Freedom on Trial" (2001). Books. 31.
https://scholarworks.law.ubalt.edu/fac_books/31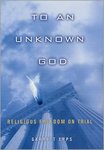 COinS