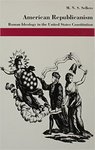 Title
American Republicanism: Roman Ideology in the United States Constitution
Description
The origins of the U.S. Constitution are the source of endless debate. What did the founders intend when they drafted this monumental work? How should we interpret their formulations in the contemporary world? Is the Constitution a living, breathing document, as is so frequently said, or is it more staid in its intentions?
Comparing the writings and speeches of the founders with the authors they read, studied, and imitated, M. N. S. Sellers here identifies the central tenets of American Republicanism. What, he asks, did "republicanism" mean to the Americans who drafted and ratified the Constitution? Drawing on an impressive array of historical sources, this interdisciplinary work convincingly demonstrates that the Constitution was far less influenced by English or continental political thought than has been previously thought. Rather, Sellers argues, the Constitution is firmly rooted in classical Roman concepts of law and philosophy.
American Republicanism presents the primary republican narratives in their American context, providing contemporary lawyers, philosophers, and historians with a window into the attitudes and understandings that animated the Constitution. The ratification debates confirm how little in the new American conception of republicanism was still at issue in 1787 and how much Americans owed to Rome's example and the Latin authors who dominated their colonial grammar-school cuirriculum.
Publication Date
9-1-1994
Keywords
U.S. Constitution, republicanism, history
Disciplines
Constitutional Law | Law | Legal History
Recommended Citation
Sellers, Mortimer N.S., "American Republicanism: Roman Ideology in the United States Constitution" (1994). Books. 63.
https://scholarworks.law.ubalt.edu/fac_books/63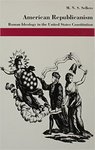 COinS