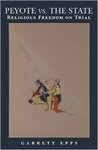 Title
Peyote vs. the State: Religious Freedom on Trial
Description
The story of the constitutional showdown over Native Americans' religious use of peyote
With the grace of a novel, this book chronicles the six-year duel between two remarkable men with different visions of religious freedom in America.
Neither sought the conflict. Al Smith, a substance-abuse counselor to Native Americans, wanted only to earn a living. Dave Frohnmayer, the attorney general of Oregon, was planning his gubernatorial campaign and seeking care for his desperately ill daughters. But before this constitutional confrontation was over, Frohnmayer and Smith twice asked the U.S. Supreme Court to decide whether the First Amendment protects the right of American Indians to seek and worship God through the use of peyote. The Court finally said no.
Garrett Epps tracks the landmark case from the humblest hearing room to the Supreme Court chamber—and beyond. This paperback edition includes a new epilogue by the author that explores a retreat from the ruling since it was handed down in 1990. Weaving fascinating legal narrative with personal drama, Peyote vs. the State offers a riveting look at how justice works—and sometimes doesn't—in America today.
Publication Date
3-1-2009
Publisher
University of Oklahoma Press
Keywords
peyote, Religion, religious freedom, Tribal, Native American, Law, Constitutional Law
Disciplines
Civil Rights and Discrimination | Constitutional Law | Indigenous, Indian, and Aboriginal Law | Law | Religion Law | Supreme Court of the United States
Recommended Citation
Epps, Garrett, "Peyote vs. the State: Religious Freedom on Trial" (2009). Books. 28.
https://scholarworks.law.ubalt.edu/fac_books/28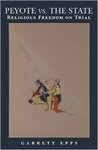 COinS