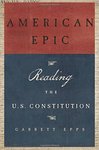 Title
American Epic: Reading the U.S. Constitution
Description
In 1987, E.L. Doctorow celebrated the Constitution's bicentennial by reading it. "It is five thousand words long but reads like fifty thousand," he said. Distinguished legal scholar Garrett Epps—himself an award-winning novelist—disagrees. It's about 7,500 words. And Doctorow "missed a good deal of high rhetoric, many literary tropes, and even a trace of, if not wit, at least irony," he writes. Americans may venerate the Constitution, "but all too seldom is it read."
In American Epic, Epps takes us through a complete reading of the Constitution—even the "boring" parts—to achieve an appreciation of its power and a holistic understanding of what it says. In this book he seeks not to provide a definitive interpretation, but to listen to the language and ponder its meaning. He draws on four modes of reading: scriptural, legal, lyric, and epic. The Constitution's first three words, for example, sound spiritual—but Epps finds them to be more aspirational than prayer-like. "Prayers are addressed to someone . . . either an earthly king or a divine lord, and great care is taken to name the addressee. . . . This does the reverse. The speaker is 'the people,' the words addressed to the world at large." He turns the Second Amendment into a poem to illuminate its ambiguity. He notices oddities and omissions. The Constitution lays out rules for presidential appointment of officers, for example, but not removal. Should the Senate approve each firing? Can it withdraw its "advice and consent" and force a resignation? And he challenges himself, as seen in his surprising discussion of the Defense of Marriage Act (DOMA) in light of Article 4, which orders states to give "full faith and credit" to the acts of other states.
Wry, original, and surprising, American Epic is a scholarly and literary tour de force.
Publication Date
8-26-2013
Publisher
Oxford University Press
Keywords
Constitution, Constitutional Law, United States, Courts
Disciplines
Constitutional Law | Law | Legal History
Recommended Citation
Epps, Garrett, "American Epic: Reading the U.S. Constitution" (2013). Books. 25.
https://scholarworks.law.ubalt.edu/fac_books/25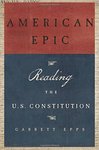 COinS