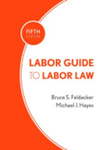 Title
Labor Guide to Labor Law
Description
Labor Guide to Labor Law is a comprehensive survey of labor law in the private sector, written from the labor perspective for labor relations students and for unions and their members. This thoroughly revised and updated fifth edition covers new statutes, current issues, and the latest developments in labor and employment law.
The text emphasizes issues of greatest importance to unions and employees. Where the law permits a union to make certain tactical choices, those choices are pointed out. Material is included on internal union matters that tend to be ignored in management texts. Bruce S. Feldacker and Michael J. Hayes cover applicable labor law principles from a union's initial organizing campaign to the mature bargaining relationship, including such subjects as the employee right to engage in protected concerted activity, the duty to bargain, labor arbitration, the use of strikes, picketing and other economic weapons in resolving a labor dispute, the duty of fair representation, internal union regulation, and employment discrimination.
This book is also a useful reference and review for full-time union officers and representatives who have a working knowledge of labor law but wish to brush up on certain points as needed in their work. Both authors have extensive experience in the construction field, and they have been careful to include material on those aspects of labor law that are unique to that field.
Labor Guide to Labor Law is structured to present an unbiased and comprehensive explanation of labor law principles for anyone interested in the field. Thus, labor relations educators, as well as practitioners in the field representing labor, management, or individual employees, should also find the text suitable for their use. Each chapter includes a summary, review questions and answers, a restatement of "Basic Legal principles" with citations to key cases, and a bibliography for additional research.
Publication Date
8-7-2014
Publisher
Cornell University Press
Keywords
arbitration, civil rights, collective bargaining, employment discrimination, employment law, organizing, unions
Disciplines
Civil Rights and Discrimination | Collective Bargaining | Labor and Employment Law | Labor Relations | Law | Unions
Recommended Citation
Hayes, Michael and Feldacker, Bruce S., "Labor Guide to Labor Law" (2014). Books. 103.
https://scholarworks.law.ubalt.edu/fac_books/103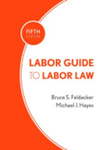 COinS