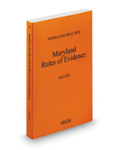 Title
Maryland Rules of Evidence, 2013-2014 Fourth Edition
Description
An excellent companion to Maryland Evidence, State and Federal, 3d, this Maryland Rules of Evidence volume provides a concise overview of Maryland's evidence rules. You will find detailed discussion of each rule, with cross-references to Maryland Evidence. The book contains three parts:
A summary of Title 5 of the Maryland Rules
The text of Title 5, with official source notes, committee notes, and author's commentary
Comparisons of Federal Rules of Evidence, Maryland Rules, and Uniform Rules of Evidence
Deletions and additions made by the Maryland Court of Appeals are highlighted, and an alphabetical subject matter index helps facilitate the location of the applicable rules.
Keywords
maryland rules, evidence, textbook
Disciplines
Criminal Law | Criminal Procedure | Evidence | Law | Legal Education | State and Local Government Law
Recommended Citation
McLain, Lynn, "Maryland Rules of Evidence, 2013-2014 Fourth Edition" (2013). Books. 79.
https://scholarworks.law.ubalt.edu/fac_books/79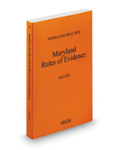 COinS