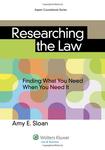 Title
Researching the Law: Finding What You Need When You Need It
Description
Concise new title by the top author in legal research. Focuses on pre- and post-search analysis for effectively filtering vast amounts of material. Teaches students how to identify the most pertinent and authoritative information to solve a legal problem.
Features:
Concise, reasonably priced new title from top legal research author.
Approaches legal research as a filtering process to identify the most pertinent and authoritative information from vast search results.
Part I: Explains how to define a research question; pre-filter content before beginning a search; conduct research; and establish post-search criteria for filtering results.
Part II: Describes essential features of individual sources of authority and search strategies unique to each source.
Part III: Contains research flowcharts to help students plan research strategy for different types of research projects.
Contains all information students need to learn fundamental principles of legal research.
Can also be used to complement other texts and classroom materials.
Not simply a shorter version of Basic Legal Research. Looks at research as a process of filtering the available information, rather than as a process that requires first choosing the right source of authority to solve a legal problem.
Part I is primarily new material. Part II contains a mix of new material and streamlined versions of similar content from BLR. Part III contains flowcharts that follow the format of the flowcharts in BLR, but the content of the flowcharts has been reformulated to fit with the filtering approach.
Publication Date
2-20-2014
Publisher
Wolters Kluwer Law & Business
Keywords
legal writing, legal education
Disciplines
Law | Legal Education | Legal Profession | Legal Writing and Research
Recommended Citation
Sloan, Amy E., "Researching the Law: Finding What You Need When You Need It" (2014). Books. 65.
https://scholarworks.law.ubalt.edu/fac_books/65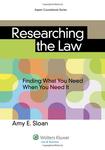 COinS